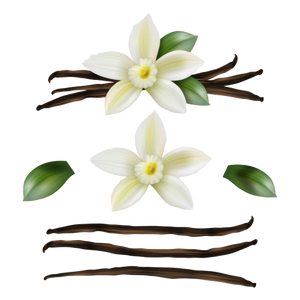 ORIGINS OF VANILLA
Vanilla is a tropical climbing orchid and the consumer-ready dark brown vanilla as we know it comes from the dried and cured fruits (pods) of the orchid Vanilla Planifolia.

There are 3 main types of orchids that produce vanilla:

-Vanilla planifolia (also called Vanilla fragrans)
-Vanilla tahitensis
-Vanilla pompona

Vanilla planifolia is the original vanilla plant from Mexico but today it is cultivated in Uganda, Madagascar, Indonesia and Papua New Guinea.

Vanilla planifolia (also referred to as Bourbon vanilla) is the most common type of vanilla produced in the world, first used by Aztec people in Mexico to flavor cocoa and it has over 200 compounds, packed with amazing flavor and aroma complexity, and is considered a delicacy among chefs, bakers, and cosmetics manufacturers.
Uganda, "The Pearl of Africa"
Uganda is nicknamed the pearl of Africa, and with good reason, the loamy soil and warm tropical climate make for unique and perfect circumstances to grow the most flavorsome vanilla. 
Surrounded by Lake Victoria, the Rwenzori Mountains and the Virunga Volcanoes, there is no place more beautiful or better equipped to grow vanilla.
In Uganda vanilla is grown mainly by matooke-banana farmers who plant additional trees like Jatropha curcas as the climbing tree for the vanilla vines. Vanilla grows best under good shade and the matooke banana plantations offer the perfect soil and growing conditions
Biodiversity & Nature-positive Farming
As originally found in forests wrapped around trees, vanilla is a perennial crop that grows best in a regenerative farming system such as intercropping or agroforestry as the crop needs shade and vine support climbing on stems of different crops like bananas, cocoa, or trees.
Gourmet Bourbon Vanilla
Our vanilla beans are regeneratively grown and artisanally cured in Uganda. Ugandan vanilla has a sweet chocolaty taste, and its naturally high level of vanillin provides for  universal application, for baking and in ice cream, confectionery and much more.
Grade A Vanilla Beans - hand selected with finest curing process, packed in resealable and airtight pouches for freshness. These high-quality vanilla pods weigh between 5-6 grams, supple, oily, black/dark brown, 25-30% moist.
Ethically Sourced & Fairly Priced
Directly sourced and grown by local farmer partnerships in Uganda. We choose the quickest route from Ugandan farms to Europe. The vanilla comes from our farm and from community farmers that we collaborate with. Shortest supply chain.
Use The Whole Bean
The whole bean is full of flavor and can be used. Vanillin is most concentrated within the bean caviar. Slice the vanilla bean vertically and scrape out the caviar, which you can then add to your dessert, ice cream, or other tasteful creations.
The remaining bean shell is also full of flavor, you can dry it to make vanilla powder, mix it with fine sugar to create vanilla sugar or use it to make vanilla-extract.