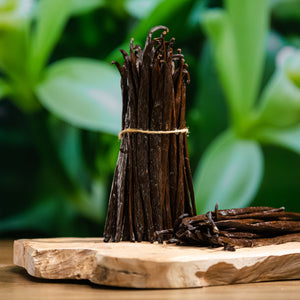 EXPERIENCE NATURAL VANILLIN
FLAVOUR
Welcome To Vanillapoint
We grow, process, and import vanilla from Uganda to the Netherlands. We work under the concept of Direct trade. The vanilla comes from a family-owned plantation of vanillapoint founder Godfrey Kiwumulo, giving the shortes supply chain possible. To ensure supply, we have as well partnered with a number of farmers within the community that have accepted to join our network. This helps us to control the quality but as well the farmers in our network are assured of a fair price.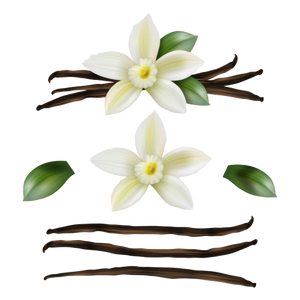 Characteristics Of Our Vanilla
Fresher. Uganda has two vanilla harvesting seasons. This ensures supply.

Unique. Characterized by a bold flavor, higher vanillin content and caviar.

Heavier. On average a grade A Bean weighs between 5-6 grams and with a good harvest, can go up to 9 grams

Multipurpose. Due to it's intense/bold flavor, it pairs well in creamy Deserts, ice-cream, pastries and beverages.

Taste. Considered sweeter, with a fruity taste reminiscent of berries, raisins, and fig.

When it comes to making extraction, it gives a dark and intense concentrate.

Tired of overly sugary treats? Let the natural sweetness of our vanilla beans be the secret ingredient that adds depth and complexity to your desserts, beverages, and savory dishes.
Shop Now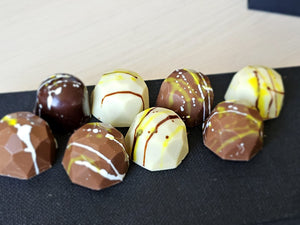 The whole vanilla bean is full of flavor and can be added to your dessert, ice cream, or other tasteful creations.
Our Heritage – We Know Vanilla Farming & The Artisanal Art Of Vanilla Curing
100% Premium Ugandan Vanilla
Vanilla beans from Uganda are uniquely rich in aroma and deep in flavor. They have high content of vanilla caviar and high concentration of vanillin. On average grade A bean weighs between 5-6 grams. It's perfect for baking, cooking, flavors for ice cream, yoghurts, and cosmetics.
Vanilla From Regenerative Farming
We use regenerative practices like intercropping, mixed farming and soil mulching on our vanilla plantation. For example we intercrop our vanilla with coffee, bananas among other crops. This helps to maintain soil health. We have as well encouraged other farmers that we have partnered with to practice regenerative farming, for it is sustainable, improves vanilla volumes and quality.
Dedicated to high quality vanilla
We ensure that only the ripe and mature pods are being harvested, both at our own farm as well from the farms of our partners. After harvesting we sort the beans and start the curing process which involves carefully sun drying to get the premium quality dark earthy brown beans with rich flavor.
IMPRESSIVE?
Buy In Bulk
Bakers, restaurants, industrial users
and wholesalers who need vanilla supply in larger quantities, kindly send us your requests here.
Contact Us
OUR HAPPY CUSTOMERS FEEDBACK
My name is Wouter van Amsterdam and I have been working in the Patisserie for just under 10 years. Since June 2021, I started my own business in making artisanal chocolates. Through a customer I met Godfrey Kiwumulo of Vanillapoint. I am always looking for better raw materials than I am currently using so that I can take the quality of my chocolates to the next level. When I started talking to Godfrey and he showed me his vanilla and smelled it, I immediately became excited. I have not worked with such a beautiful fresh, thick, and shiny vanilla in the bakery before and you could smell the aroma from meters away. When I started incorporating this vanilla into my vanilla caramel chocolates, I was immediately convinced. The aroma and flavor these beans give off are incredibly powerful. In addition, it also gives me a lot of added value that I can buy directly from the source.

Wouter van Amsterdam
If you are looking for a top notch product, this vanilla beans does. Nice thick vanilla, bold, full of vanilla, and very rich flavor. In addition, it comes from a small organic family business. I highly recommend it to everyone. Fantastic quality, great service and affordable too.

Ruben Coonen
"Never had vanilla beans this rich and fresh". The difference between the vanilla beans from Godfrey and the ones you normally find in any store is enormous. Godfrey's vanilla beans is much bigger and much fresher. The aroma and taste is perfect. Very happy to use this vanilla in my tartlets.

Marloes de Jonge, Moes Nijmegen
We have been using vanilla beans from vanilla point for several years. This to great satisfaction the beans are nice and large and well filled, We also use the hull to make our own vanilla sugar. They have enough oil and flavor for this. The beans are stored very well in the packaging they come in. We have ordered several times and find the quality getting maybe a little better each time. What is also important is of course the price this is very competitive

Restaurant de Stadstuyn
For my patisserie I am always looking for the best products for the best price. Here I found the best vanilla. Godfrey is friendly in contact, and the vanilla beans is always fresh and got good quality. Also, not to forget, the price is right. Would recommend!

Roel Wagenaar, Holy Sweets Nijmegen
I have been using VANILLApoint vanilla for several years now. Before that I used the vanilla pods from the wholesaler. I am especially pleased with the price and quality of the product; the beans are very fresh and very richly filled. As a result, the dishes that we make fresh have a very good taste due to the power of the vanilla. I also believe because the vanilla bean is so well filled and smells and tastes powerful that it takes less of it to match the same. So, at the end of the line, this is also more economical for us to use. I recommend vanilla to everyone.

Chef Johnny Bosveld
OUR CLIENTS