WHO WE ARE...
We Are Vanillapoint
Putting a smile on farmers and delighting your tastebuds. Bringing perfectly cured fresh vanilla from Uganda to Europe, that's what we do.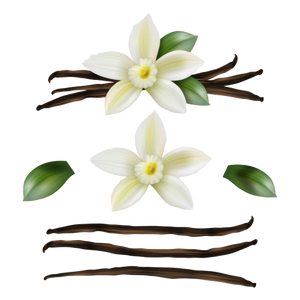 Meet The Founder
"My personal mission is to change the way the farmers experience agri-business."

Godfrey Kiwumulo started VANILLApoint as a way of deriving value from what he knows best. Growing up in a farming family, experiencing the richness of Ugandan soils but also the struggles of local farmers.

He moved to The Netherlands in 2018, with his Dutch Family and seeing the market demand for Vanilla in the EU created the drive to start VANILLApoint.

Farmers are riddled with too many middlemen who walk away with most of the product value and earnings. Farmers turn into photo moments used in company green-washing.

I want to change that by fighting hard for fair prices which enables farmers to work as sustainable as possible. We source the best quality vanilla, and I invite you to enjoy our Ugandan Vanilla and thereby contribute to a better food model that enables good farming practices, quality produce and decent income for farmers.
As of June 2023, VANILLApoint is a partnership of three. Mohammed Hessani takes care of the financial and legal aspects of the company.
Arne Doornebal also joined Vanillapoint. He is a former correspondent who lived and worked in Uganda for 7 years, after which he set up an experimental vanilla plantation on Masaka road.
Doornebal will focus on marketing and sales.
NATURE-POSITIVE FARMING
Intercropping & fair pricing
Our vanilla comes from intercropping farms. This means we also grow other crops like bananas and coffee. This benefits farmers, because they are less dependent on one crop, but the advantages go even further.
Banana plants provide perfect shade for the optimal growth of vanilla while providing food to the farmers.  Intercropping is one of the most sustainable farming practices, since it helps regenerate the topsoil, improving the water cycle and biodiversity. It is the most sustainable way.It is difficult for Ugandan farmers to resist big companies which dictate vanilla prices. That's why we pay them fairly.
It's about more than the taste of our vanilla, we care about the social impact of what we do.
OUR VALUES & PRINCIPLES
Putting a smile on farmers & delighting your tastebuds
There's a lot to like about Ugandan vanilla. Thanks to Uganda's climate, it's among the very few countries able to produce two vanilla harvests a year. This means the beans are always fresh: vanilla all year long!
We cure the vanilla at origin in Uganda, sourcing from our own farms and with direct partnerships with local vanilla farmers, supplying premium vanilla. Our supply chain is a shared-value supply-chain, 100% traceable and fully transparent. We keep adding more farmers, as more consumers enjoy this rich vanilla.
FROM FARM TO YOUR TASTE BUDS